TL;DR The MOTU M64 works great with the Avid VENUE S3L. The tested setup was sending 32ch of audio from an Avid VENUE S3L via AVB to a MOTU M64, converting the signal to optical MADI, and sending it over fiber into an Avid VENUE Profile.
Background
A couple of weeks ago, I had the privilege of working with Patrick Müller and Luca Bruegger of Tonkultur.ch GmbH / Remote Recording Services to connect their Avid S3L system to their Avid Profile system via optical MADI using the the MOTU M64 as a converter.
Patrick and Luca were looking to use a spare Avid S3L console as additional inputs for an Avid Venue Profile console. They normally get a MADI feed from the FoH for their recording, but sometimes have the need for their own on-stage preamps. They wanted the ability to place two Avid Stage 16 stage boxes on the stage, acting as as mic preamps, and send the signals into their existing setup via optical MADI. Unfortunately the S3L doesn't support MADI.
In their search for a solution, they were pointed at my Avid S3L and 3rd-party AVB Devices article. Seeing that I've connected MOTU devices already, they purchased the MOTU M64, and reached out for some help getting it going. Luckily Luca and I have known each other for several years now which made it easy to connect.
Getting it going
Working through the documentation I've written, we were able to get the setup working in a couple of hours. This was my first chance to test the documentation on a second S3L system, and I was able to fix some minor mistakes along the way, which should make future configurations go much faster.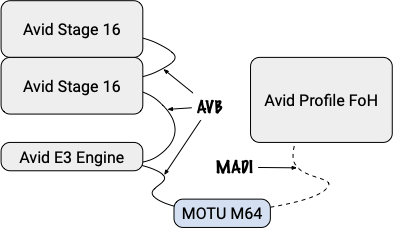 A future desire they have is to leave the E3 Engine out of the mix completely, using only the Stage 16 and M64 devices. I've started digging into the Stage 16 to see whether that might be possible, and both Luca and I are reading more into the AVB standard, as well as Milan, which is the follow-up standard to AVB. Stay tuned!
[Update 2020-01-14] I'm now able to announce the Stage 16 via AVB so that I can record directly from it with macOS, and I can also manually control the signal settings (gain, pad, and phantom) as well as the LEDs on the front. See what all I have working on my Projects page.